The newest episode of our Community Spotlight has arrived! For those of you who are out of the loop, our Community Spotlight is a bimonthly collection of our favorite levels for both PS3 and PSP posted by our members. All of these levels have been added to our site within the last 2 weeks, so you're getting a taste of some of the latest and greatest we have to offer.
Note:
The spotlight crew would like to say a big thank you to Powershifter for his hard work and time on the spotlight crew. He's leaving the crew but won't soon be forgotten. Thanks again Powershifter!
TheAdipose & Clarie have real life obligations keeping them from the spotlight for a few weeks but they'll be back as soon as they can. Also, due to a busy schedule, salieri had to sit out this episode of the Spotlight. We're looking forward to his return in Episode 40!
Finally, we'd like to welcome the newest member of the Spotlight Crew: Holguin86! Welcome to the team!
Enjoy!
PS3 Spotlight
CyberFox Trilogy Parts II and III
by

Holguin86/Holguin86
This is the conclusion to my CyberFox trilogy - there are two levels in this thread as one of them is a boss and I don't think it deserves a thread on its own. So - you're back again, fighting through CyberFox's main base. But this time, it's based on infiltration rather than paintinator-toting mayhem. Bounce up to TWICE as high on cool anti-grav platforms ...
If your level tastes run to cool mechanical looking high tech visuals with great platforming and explosive bosses your gonna love this one. Warm up those fingers on part two as you test yourself against plasma hurling machines and grabable gears in fun combinations . Then take on one monster of a boss. Great boss setup that will give even the hardest of the hardcore a run for their money. You will be plasmafied… oh yes you will!

The Cyberfox series returns with one excellent platformer and then an amazing, fresh boss battle. First up you'll be running and jumping your way through a mechanical, very smooth-feeling factory. Solve puzzles, dodge obstacles and see if you can find Cyberfox. The second level (third in the series) will have you avoiding plasma and gunning down a well designed boss. Two quality levels you shouldn't miss out on.

You know you've found a good level when you can sit and think to yourself, "Wow, so simple it's brilliant!" Fun simplistic gameplay made fresh along with astoundingly clean visuals makes me feel slightly jealous that I never made it. The boss is also unique and fun, and while these levels aren't very long, they sure pack a punch!

Sprolling Hills
by

warlord_evil/warlord_evil
The Queen calls you to the Gardens to tell you of urgent news! Can you help her?(
watch video
)
All the charm of The Gardens from story mode, but with lots more to do and lots more ways to meet your maker! Loads of details and whimsical use of The Gardens materials and objects will keep your eyes busy as you wander through this level. Full of details and bubbles to discover it's a cute and active place for adventure. Moderate in difficulty it's platforming is fun but not too serious.

Need a break from all those high tech, high velocity, high energy levels? Come and relax in a magical world of simple, fun and wonder. A lovely and different representation of the increasingly popular gardens theme is here for you to play and my oh my does it look purty.

Holy Clucking Cowbells
by

GrantosUK/GruntosUK
Spend a day with Sackboy on the farm! After a drink and blues session on the porch of his ranch, Sackboy awakes to find his wife annoyed, and his farm animals gone! Can you solve the mystery?
No spies or aliens or treasure to seek out in GrantosUK's latest level, just an average guy and his raging hangover looking for his livestock… or is it avoiding his wife? I'm confused. Either way the characters are hilarious in this barnyard gone wild west and the zombie chickens, yep you read that right zombie chickens, will keep your paintinator going full throttle. Round off the experience with some clever and challenging platforming all while keeping an eagle eye out for two different kinds of secrets and you have a fun level, that looks great, makes ya laugh and will have you back for another round of hair o' the dog! Somehow I think this one might be autobiographical but you'll have to ask Grant that for yourself.

In a cruel twist of fate, Grant is sucked inside his PS3 back to the good old days in the Wild West. With his wife transported with him, this is truly Grants own life in LBP form… at least that's what I think this fun, cute and hilarious level is all about.

I'm going to take this an autobiography of the life of mister GrantosUk. With a hangover on the porch and the wife going nuts, things don't get any better when the cows go missing, but it gets worse when the zombified chickens are coming at you from all angles! Work your way through the prettiest canyon this side of littlebigplanet in search for those cows. Jaw-dropping visuals meets funny and interesting story-telling is a win win in my book. Also make sure you find all those beer bottle secrets lying around because you don't want to be finding livestock while sober would ye? Grant wouldn't!
The opening scene of this level does indeed seem to be a projections of grant's homelife (and certainly provides a chuckle or 2), but it all makes for a jolly fun backdrop for a jolly fun level. Slightly different from the typical gruntosUK production (where's my backtracking??), but still up there in terms of quality, this is a wonderfully eccentric adventure and a great level to play through. There is also plenty of replay value if you're after the high score, provided by the ingenious bubble placement throughout.

LBP2 - The Gardens
by

TOBSn08 + Lokomotivetoto/LittleBigQueen
A new Adventure begins. A new story series featuring a King, A Queen, The King and their babysitter.
Huge in scope, this level series really does feel like an MM story level group. Familiar and new characters with quirky personalities guide you through some epic and inventive platforming. Series starts off simple and builds in difficulty and complexity for a great finishing experience. Set aside some time to wander through these not so green gardens and have a laugh at where the story takes you.

Oh no the baby has been kidnapped! Venture in search for the baby sitter's hideout across 3 magnificent levels, and an extremely addictive survival challenge to top it all off. Trumping Media Molecules own story mode, this is a level series I'm sure you won't wanna miss! Can't leave that baby to suffer could you? You better help her out now!

Fat Chipmunk
by

fullofwin/Elvenbane
A greedy striped rodent has inadvertantly plugged up his burrow entrance with acorns and now needs your help getting back inside. Even the ordinary becomes an obstacle when your sack-person is no bigger than a honey bee in this forest themed puzzle/platformer. Find all 8 hidden gold acorns for points and um fame and glory?!?
In another visual tour de force, fullofwin is back in the Spotlight with this absolutely beautiful level. Graceful leaves, wonderfully designed bugs of all kinds and some of the most stunning spiderwebs I've ever seen in LBP await players brave enough to enter this big world. Extreme attention to color, texture and object use in the landscape and the wildlife will have you wondering how it was made, which is a quality I love to discover in levels. Find the acorns for the resident rodent and both your score and the little guy will indeed be content. A must play for fans of artistic levels!

I'm still amazed at how so many people are unaware of the creator elvenbane! Easily one of the finest artist in the game, he returns to provide us with another gem. Charming, slightly cartoony, but beautifully detailed environments and creature design are what really stands out here, and many of you will spend a good deal of time pulling stickers off to try and work out how the hell he pulled off those effects! But the gameplay is not forgotten either - it's as much fun to play through as it is too look at!

OH NO!!! THE PRINCESS!!! World 7: Pipe Maze
by

CaptainCowboyHat/CaptainCowboyHat
The next-to-last entry in this series is ridiculously hard! Also there are pipes.
Ok, yet again CaptainCowboyHat has offered up another platforming masterpiece and earned another place in the Spotlight. Fans of the series know how unforgiving these can be and this one cranks up the pain in the best way possible. Hard in difficulty it's a level that is constantly pushing you to do your best or face electrical, spiky, gassy or squishy death. The dialogue is hysterical and witty and keeps the story going in new and unexpected directions. If you got the skills you owe yourself a play of this one and heck go play the rest of the series again!

However much you die on this level, however much you swear and curse your abilities and however much you want to hate this level – you really have just got to love it. A humorous, difficult romp through the Pipe Maze, all the way to the boss battle will have you laughing and above all cursing yourself. Nothing cheap here, but a challenge for most players.

This wasn't in my job description, I quit! Insanely tough obstacles meet you in this level, all while keeping it fair and completable for anyone whose had enough practise at this game. Visually far ahead of previous instalments and the best gameplay I've ever seen make this the ultimate experience, simple as that.

Another masterpiece of the harder end of the platforming genre, this level is going to hurt! But don't let that put you off, as once again CaptainCowboyHat has brought us some fantastically original gameplay elements. Simple yet innovative and expertly crafted and tuned up perfectly.

The 2099 Aerostation Project : Mars
by

Asbestos101/Asbestos101
At the turn of the 22nd century, the Aerostation Project makes it's debut flight in the punishing atmosphere of the red planet... This was brought to you by Chug 'Classic'
If you thrive on danger and think your up to the challenge, take on this deadly but fun level from Asbestos101. You get one shot at glory or it's gravity's turn to put you in your place, namely down. Survivial platforming doesn't get much more fun than this but leave the friends at home as one against the course is hard enough!

One life platforming far beyond the level of those on the cool pages normally, this is what it all should be. A sophisticated visual level with tough, unique and challenging obstacles are all I want and this delivers. What more do I have to say? Go play it.

Security Breach
by

javi_haguse/javi_haguse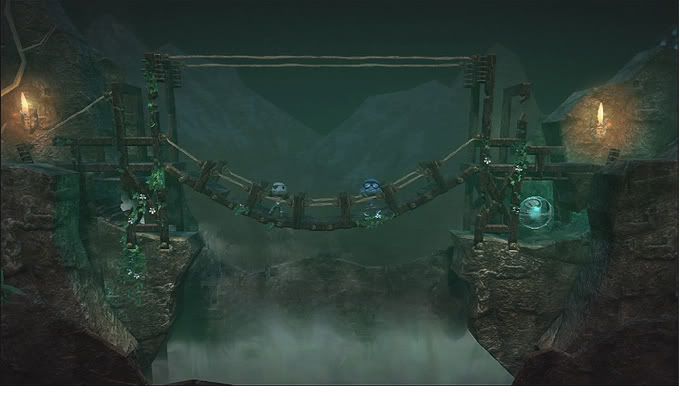 As one of the nations' most decorated soldiers, you've been recruited to join an elite squad but first… you'll have to prove yourself. You'll be dropped in the middle of an abandoned mining outpost to locate the military's top secret facility. Good luck soldier... you're gonna need it.(
watch video
)
Atmosphere is just dripping from this gorgeously designed level! Some brilliant lighting and geometry make you feel like your in a real space full of rocks to climb and dangers ahead. Some of the most amazing engineering is showcased in the crane construction and collapse and in the subsequent headquarters events. You have to play to appreciate all the tech behind the scenes of this gorgeous level. Characters are brilliantly done and if you know a little something of the backstory of how this level was made it's hysterical to play. Do not miss this level and don't forget to buckle up because it's a guaranteed bumpy and awesome ride!

As cinematic levels go, they don't get much better than this! A level fuelled by emotion and power you'll struggle not to just stop and stand in awe at some of the graphics and challenges on display here. But you can't stand around for long, you never know when you're going to be under attack.

What is really with this group of super creator I see? (You know who you are) Do you all have some sort of cheat to make immense levels of biblical proportions that make me die a little inside? Please keep creating, for the fact that you all exist makes me want to continue creating. This level is just incredible. Cinematically inspiring, with compelling story and and tense gameplay it definitely fits in with the comphermcs, the mrsupercomputers and the rtms of this game.

I've been waiting for this level to be completed for quite some time now, but the wait has certainly been worth it: Mr Haguse does not disappoint! Beautiful scenery, gorgeous lighting, great character design and rich, layered audio will be the first things to strike you about this level, but that's not all. Throw in some great platforming, puzzling and set pieces, then wrap it all up with a story that hints of greater things to come.

Ghost of Sparta - Between worlds
by

kn0cked--0ut/kn0cked--0ut
The third of the series. After a 6 month break I finally found back the will and inspiration to finish this level. This time the ghost of sparta finds himself between two different worlds, one familiar and one totally new. Hope you enjoy it!
Striking visuals on a grand scale set in a moody and dark landscape will leave it's impression on you if you dare to adventure in this level. Secret Urns to find and some great jumping combinations keep your interest up as you make your way past enormous chains and even more enormous denizens of this murky world. Can't wait to see the boss for this one!

Some levels are described as atmospheric, but you'd need a whole new word to describe this level. An emotional heartfelt level that sees you try to release an all-powerful beast. With plenty of exploration and tough challenges, you'll be sure to keep coming back to this awe-inspiring level.

Also from the Showcase...
Played everything in the Spotlight and still looking for more?
These levels stand out from the crowd for a variety of reasons, so be sure to check them out!
PSP Spotlight
Article 5
by

Spark151/Spark151
Welcome to another story of LittleBigNewspaper. Today's article will be "Article 5" and enjoy the platforming.
Do not adjust your PSP; Spark151 is now controlling the transmission. Jump into the esoteric black-and-white world of a newspaper page with this stunning level. Platform and puzzle-solve in grayscale while you seek out point bubbles in this inky metropolis. You'll be amazed at what can be done with just two colors. Stop the press!

What's black and white and tread all over? Why, it's this printed masterpiece by Spark151! Indulge yourself in a sublime experience as you leap into silhouettes of the night sky and revisit some classic platforming from the original story mode with a fresh reinterpretation. With each page featuring its own dashing style in visuals and gameplay, this level is certainly hot off the press.

I'm a big fan of color so when I tell you I love this colorless, black and white level you know it has to be good. Fantastic stickers and varied platforming all in high contrast lights and darks make it visually powerful and fun to play. Set up in pages each new area brings a different style that keeps gameplay feeling fresh but still maintains the same quality of design throughout. Why browse the classifieds when you could be playing this page turner of a level!

A Million To One
by

Bovrillor/Bovrillor
The chances of anything coming from Mars are a million to one... But still they come. Now might be a good time to start running!
The alien invasion has begun. Forget about saving the world... Just run for your life and get out of the city as quickly as possible! Dodge lethal alien heat rays, hitch a ride on construction vehicle or two, and keep clear of those friendly air strikes. You'll need to be light on your feet if you want to avoid being a sack-flavored treat for a giant alien robot.

Why are aliens that come to earth so cranky? Maybe we should give them a PSP and let them play this fun level from Bovrillor. Really entertaining and full of heat rays to avoid and giant construction equipment to ride. Everything in this level feels big! Big story, big alien ships and big trouble if you aren't fast enough to get outta town!

Who knew a level bent on chaos and destruction could be so well put together? Bovrillor seamlessly integrates gameplay and story elements together to create a fluidly paced experience despite havoc in the crumbling city. Interesting vehicle contraptions help you escape the hostile aliens, and detailed car pileups make great platforming challenges. But before you admire the detailed scenery like the streetlights, make sure a heat ray isn't nearby or you'll be toast!

Sackula [PART TWO]
by

ali985/Alismuffin
There's only one way to kill a vampire. Part Two of the Sackula series.
Continue your spooky adventures from part one in the Sackula series as you track down a killer that lurks in the shadows. Watch the story unfold as you make your way across the desolate landscape and into a very creepy castle with death hiding in every dark corner. How will this story end? You decide!

Innovative storytelling and suspenseful gameplay stalk us once again in this sequel thriller by Alismuffin. Infiltrating Sackula's lair, you'll get hypnotized by the eerie elegance of his Transylvanian castle, but be sure to snap out of it before you feel sharp fangs penetrate your furry little neck. With alternate endings that give you the power to choose the fate of Sackula, you'll be sure to play it again to see the other ending.

Story is key in this sequel of Sackula. The tone is perfectly set for suspense and horror as you find your way through a beautifully designed castle and make your way to a fateful conversation with the subject of the story. Choice plays a part in this level but the choice to play it is an easy one.

Also from the showcase...
Played everything in the PSP Spotlight and still looking for more?

These levels stand out from the crowd for a variety of reasons, so be sure to check them out!