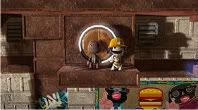 Welcome to our sixth Community Spotlight! For those of you who don't know, Community Spotlight is a way for us to show off, or "Spotlight", our favorite levels made by you! Our Spotlight Crew scours the
Level Showcase
for awesome levels, and they neatly organize them in a list format to help you find and play them on your own. Each level has comments from each Crew member that selected that level, so you guys can get a good idea of how many Crew members enjoyed it! If media is available, it will be provided in the listing. Inactive users will be separated into the bottom of the post, and will not receive special comments from the Spotlight Crew. However, that says nothing of the level's quality, so give them all a try!
BassDeluxe/BassDeluxe
Description:
Welcome to your first day on the job. You are Monster Hunter #128. Your first assignment is to take out a stray gelulupas who has gotten loose in Facility #16. Good luck.

This level is the first of many levels from me. It consists of purely a boss fight. No platforming or puzzle-solving, you get to jump straight to the action. It features several new ideas for user-created content, as follows:

* Boss Stage - As stated above, you get to jump straight to the action. But, I might add that this is most likely the most complex user-created monster out there. If anyone thinks I'm wrong, feel free to show me a level with a more complex one. The monster alone, with all of the machines needed to make it work, takes up nearly half the thermometer.
* Optional Prizes - This means all prizes. While I'm not quite done adding prizes in yet, so far every prize is optional, and this includes the prize you get for acing the level. How can the aced level prize be optional? you might ask. Well, ace it and find out.
* Randomness - Every time you fight the monster, the attack pattern will be different. Every time.
* Paintinator Utilization - Have fun shooting everything you can!
- BassDeluxe
Our Thoughts:
This level is a showpiece for what is possible when trying to create an epic boss battle. The amount of switch combinations used here is staggering and really must be applauded. This sort of thing takes a lot of time and effort and I can say that all the hard work was definitley worth it. This is an action packed battle that you won't soon forget! - OCK
Spoiler - Video
Hexagohn/Hexagohn
Description:
Hey guys, I just published my new level Heart of Gold. It is part one of a series that follows a gold hunter and his crew in an epic adventure. Many questions are asked in this introduction and they will all be answered in parts 2 & 3.

I thought I would throw my coins into the pot of aesthetically pleasing levels this time and I think I have done a pretty good job and plan on improving it even further. It has a ton of awesome dialog and of course platforming. I have incorporated many gameplay styles into this introduction to the story including puzzles, platforming, paintinator gun fights and even riddles. I spent about 50 hours on this level but I have completely filled my thermometer.
- Hexagohn
Our Thoughts:
What Hexagohn has created with this level is an adventure of epic porprtions and scope. There are so many fun and original gameplay elements going on here that it really makes your head spin. Amongst other things you will take part in a car chase sequence, some very clever "tests" and some action-packed gun battles. This level is one of my favorites and if you have not played it yet then you need to stop reading this and do so now!!! I eagerly await the continuation of this story. - OCK
Media (if available):
Spoiler - Images
NinjaMicWZ and Neverynall/NinjaMicWZ
Description:
I designed the enemies, turrets and bosses, and nev gave me the specifications for some of them. He designed came up with the paintinator idea, designed the whole layout of the level and the plot. We both had a hand in the dialogue, and I went through and did the final touches with stickers, sounds, and decoration and fine tuning camera work and playtesting bugs. There may yet still be problems, but we'll see.

There are some really inventive 2 player puzzles and constant action segments thanks to Nev's amazing design, and the final boss I made is quite a complex piece of machinery...

You have no idea how difficult it was for us to accomplish this feat since we couldn't see what the other was doing and bugs in object captures made it so we couldn't send each other working items. We had to publish as copy and locked, make key levels, send back all the new stuff, playtest every little detail and repeat endlessly. At one point the thermometer was so maxed that the paintinator wouldn't even fire paintballs anymore.

In my opinion, this is both of our finest work yet and I could never have done it by myself. Grab one of your buddies and have fun, because you have never seen a level like this before. It will be hard for us to capture a great heart ratio with the 2 player requirement, but it was still worth it. - NinjaMicWZ
Our Thoughts:
This is one of the top 10 levels I have played in LBP, bar none. These guys have come up with what is in my opinion the most enjoyable and ingenious gameplay mechanic yet seen in LBP by creating a two player level that combines the jetpack with the paintinator. Using this mechanic they have built a level of epic porportions with clever platforming, stunning visuals and story just for good measure. Simply put, this level is a masterpiece. - OCK
Media (if available):
Spoiler - Images
Takelow/Takelow
Description:
When I first had the idea of a series of levels concerning LOTR (I must admit that it is my wife fault… She asked me to look again the Peter Jackson's movies during Xmas holidays… just when I was thinking : What will be my next project??? ).
Altought the idea was very incitative for me, I was wondering if I would be able to construct something visually interesting. LOTR movies are strong references for a lot of people, and their visual value is awesome and extraordinary! Hard references! So I opened an empty moon place and start some test for environments and overall artistic orientation, with one thing in mind: Is this reminding of LOTR for the player? After several hours of test, I started to like what I have done and decided to transfom this "test level" in an "introductive level".
This is how "The Berear - Part I : Incipit" was born…
So, I polished the level and guided my constructions to give at this level a function of Teaser (as movies teaser). Its purpose is only to immerse the player in the LOTR universe of my levels slowly, giving him just little touch of what he could wait for the next levels in term of visual references. It is really a teaser. It's second purpose of course is to give you the key for the Part II…
In term of storyline, you will start the level in a strange library and quickly meet an unconventional Book. Actually, the One Book… It will propose you to take a rapid overview of what have been written on it. So enter the Book world and open your eyes… - Takelow
Our Thoughts:
I was really delighted to find out that Takelow had decided to take on the LoTR story because it really is one of my favorites. This first entry into the series does not disappoint and acts as a movie trailer for things to come. As always, are are some incredible lighting effects here and Takelow once again created a plethora of custom creations. If this first level is anything to go by, this could end up being my favorite series in LBP - OCK
Media (if available):
Spoiler - Images
Takelow/Takelow
Description:
You finally accepted to take the Ring at the end of the Part I: Incipit. This gave you the key to the Part II: The Ring.
This level is the first "true" level of the series. You will start in a well known place and your first objective here is to find the One Ring. You will need some help for this. Fortunately, Gandalf and Sam will be here to support you!! Could you really become "The Bearer" and keep the Ring safe and bring it until the Prancing Poney?
- Takelow
Our Thoughts:
Ahhh, The Shire, such a lovely place. Takelow has created a Shire that is absolutely perfect and true to LoTR. But it does not stop there. You will have the pleasure of meeting a perfectly made Gandalf, admire the charm of Bilbo's house and be treated to a raft ride that has some of the most stunning visuals I have ever seen in LBP. The LoTR series is in the best possible hands and I eagerly await the next one. - OCK
Media (if available):
Spoiler - Images
CCubbage/CuzFeeshe
Description:
5 exciting arcade segments, a cow mini-game, a great story, and some memorable moments.

Okay, I got GREAT response from Splat Invaders Deluxe, but several authors wanted to see me expand the idea. I finally finished, and I definately think this game is a blast!

This game features several cool innovations, including a large shield protecting a nuclear core - in which each layer spins in a different direction.

If you are a fan of classic arcade games, you will LOVE this one.

Have fun! Let me know what you think. - CCubbage
Our Thoughts:
If this mini-game could be summed up in one word it would be: FUN! This is a very well executed tribute to the old-school classic Space Invaders and I enjoyed every minute of it. Ccubbage nailed the arcade look and feel and also expanded on everything by throwing in an optional ending with story, boss and some cool custom content. Simply incredible! - OCK
Media (if available):
Spoiler - Images
Foofles/Foofles
Description:
Hello everyone, I thought I'd share my ongoing saga about cute, fluffy bunnies and their troubles with the evil mechanical bunny forces and the mastermind behind them! - Foofles
Our Thoughts:
This is a fun little series about...erm...cute, fluffy bunnies. Each level has a boss or two,(except the first, if I'm not mistaken) and they just get better and better as you play along. Worth the time to play them for sure. - BassDeluxe
Media (if available):
Spoiler - Images
-----------------------------------
Inactive Users
These users, while great creators, were not considered to be active enough on the site to deserve a spot higher on the list. You should still make time to try these levels, as they are still fantastic. To the authors in this section: be more involved on the site and you may find yourself up above with the rest of the active users!
The Facility
- Xx FAF Sniper xX/Xx FAF Sniper xX -
Thread
Little Big Apocalypse Series
- Snowspot/JonMartin -
Thread

Miglioshin's Fantasy Adventure ch.1 and ch.2
- Miglioshin/Miglioshin -
Thread

Temple of the Eye
- ZepOfLed/ZepOfLed -
Thread
Mice City
- BasketSnake/BasketSnake -
Thread
Fix the Fuses!
- Tyler/Tylerburrito -
Thread
Twysted Tales 2: Tower of Epiphany
- Onymega/Onymega -
Thread