The newest episode of our Community Spotlight has arrived! For those of you who are out of the loop, our Community Spotlight is a bimonthly collection of our favorite levels posted by our members. All of these levels have been posted on our site within the last 2 weeks, so you're getting a taste of some of the latest and greatest we have to offer. Click through for the full list. Enjoy!
Don't Touch The Ground!
by

Smart Alex/smartalex69
Do you remember when you were a kid and you would jump on furniture pretending the ground was lava? Well if you do, get your jumping skills ready, because you're about to jump for your lives here, and this time...the floor really is deadly
A super addictive little survival challenge where you must avoid the floor at all costs. You only get once chance to to make it as far as you can across as a beautiful and well designed construction site. There are some great point bubble combos to get, plenty to look at, and the re-playability is through the roof. This is one you'll play and play.

Red usually means stop but in this nail biting level it means go, go go! Technical platforming skills are very useful in this level and since you get one shot at finishing your going to need them. A great blend of platorming and survival challenge all in one you'll be back to make it through this one if you don't stick your landings the first time through. Make some time to check this one out then double it as you'll be back to play again.

Smartalex merges survival challenge with addictive minigame to create this – one of the most innovative and yet simple concepts in the game. Make sure you bring along a few cups of coffee for the run because this one will have you playing through the night if you want to beat the high score.

Invitation Understanding
by

EviLPaNda/EviLPaNda
Invitation Understanding is an abstract Level based on a challenging course. The level is set up in a race format to give players a accurate score and push them to go faster. You might just want to play it safe on this one, each set of obstacles raises it's own challenges. I hope you enjoy it. (
watch video
)
Gorgeous abstract level that will have your sackboy spinning and jumping through dizzying geometrically based obstacles. Fantastic textures and a wonderful punches of tangerine add depth to an already complex layout of geometry that swirls, rotates and swings throughout the level. Great challenge and all in race mode to really get you to kick up your A game. Fun and satisfying all the way to the scoreboard.

I've tried 5 or 6 times to describe this stunning level by EviLPaNda and have struggled putting it into words. You truly have to experience it yourself. From the simple yet striking abstract visuals and design, to the deceptively slow moving, and perfectly in sync geometric platforming, its a beautiful race through a wonderful set of ever more challenging hazards. Please go and find out for yourself just how good this level is.

I've invited about 3 to 4 friends to see this level by now and all of them are equally impressed by EviLPaNda's work. Using just simple geometric shapes, he has created a higly stylised feast for the eyes filled with original, and at times difficult, platform elements. I'm a sucker for visuals and when a creator is able to combine that with great & interesting gameplay, that makes it a winner in my book.

Perfect synchronisation. That's why I love this level so much. Such a simple concept, with such simple shapes yet EvilPanda has made one of the more complex levels you're likely to see. Has to be seen in action as neither pictures nor words can do this one justice.

For me, the visuals made this level. But that's not to detract away from the fun, if challenging, platforming. Simple shapes slotted together and used to build structures, tasks and challenges. Clean visuals give way to more complex platforming as the level progresses which makes for a fantastic level.

VAGRANT HERO - Chapter 4
by

GEK83/GEK83
The fourth in the Vagrant Hero series, subtitled Mojo's Swamp. Traverse the green thorny overgrowth to collect an item from Mojo.
Gek83 is quietly producing some really great levels in this series. The first three have already made their spotlight appearance and number 4 now joins their ranks. Very different in terms of location but with all the great organic sculpted shapes and strange and beautiful creature design of it's predecessors, this level ramps up the difficulty a bit. Precision jumps and swings are the norm as you make your way past awesome dragon flies and an absolutely spectacular dinosaur you have to see to believe. Lush and fun in equal parts - check it out.

We've spotlighted the last three Vagrant Stories, and for good cause. I loved the fantasy storyline, the excellent atmosphere and landscapes and the wonderful weapon mechanics that were used in the last three installments, and this one is no exception. Although more difficult, and with a change of scenery, like Morgana said, it has one of the finest dinosaurs you've seen, and some great little challenges throughout. And I don't think that satisfying sword combat will ever get old!

Gek83's levels get promoted more by the community than by the creator himself, and for good reasons. Now in the 4th installment of this wonderful series, he provides a welcome change in scenery and takes us to a lush yet dangerous swamp while still retaining his trademark characters and visual style. Nail biting platformsegments provide greater challenge than seen in the previous installments yet it never reaches the point where it becomes a drag to play through. The dinosaur platform, inserted for no other reason than to impress, is a real highlight of the level. Highly recommended for all.


Tucked away in a little corner of the level showcase is the fourth instalment in the Vagrant Hero series. Take to the swamp to banish evil and generally find some secrets! The classic fantasy storyline returns but the main focus is the brilliant weapon mechanic – it has to be seen to be admired.

Swinging silhouette
by

anpostteller/anpostteller
Swing, jump and soar through beautiful landscapes in this highly stylised silhouetted adventure. Single player only.
Gorgeous, deep and full of great challenges, this level is amazing. The beautiful color and lighting effects combined with superb use of the 3D glitch make what could be a challenging, but visually flat level, a stunningly beautiful landscape in golden shades of buttery yellow and deep orange full of great shapes and great fun. It will test long time players and has built in prize challenges that will have you coming back again and again. One of my favorites to date.

The silhoutte-look made fresh again, anpostteller has done just that by smart use of the 3D glitch and attention to even the most miniscule of details from vines breaking as you swing across the golden landscape to leaves whirling down as you explore this beautiful, relaxing world. What at first sight seems to be a basic swing from sponge to sponge course turns out to be a challenging parcours which requires skill and precise timing. Fun to play, gorgeous to look at and the first level that actually made me feel like Tarzan. Conclusion: a must play.

Antposteller is fast becoming one of my favourite creators in LBP. Although a change in environment and pace from Post Apocalyptic, its by no means less beautiful or playable. The visuals are simply stunning, with excellent use of the layer glitch. When you add in "achievements" you can get in the level, the playability also goes through the roof. A superb level by a fantastic creator.

Post-apocolyptic was one of those levels that I would use to impressed newbies to the world of LBP. This is one of the levels that will impress everybody. Using the silhouette filters brilliantly, Antpostteller has crafted a wonderful level that is eye meltingly gorgeous. There's plenty of substance to go with the style however. An understanding of momentum is a must for this level too as often the next sponge is just out of reach for those who decide to hang on for a split second too long.

A shadow level that uses the layer glitch to get the full depth that before only a normal level focused on visuals could have pulled off. The attention to detail here is astounding. Grab the sponge and a few leaves flutter down as you spoil the groove they've been in. Walk around a bridge and leaves fall off the underside – simply put, this creator has taken time to make his level as realistic as possible and it has paid off greatly. One you definitely shouldn't be missing.

Whispers in the Darkness
by

shindol/shindol
Whispers in the Darkness is a point and click style ghost story. If you plan on having a go at this level make sure you read the discription. There are some tips that will allow you to play it in the best possible way. Make sure you have a look at all the objects in the game as they add to the story. You'll probably need a bit of patience to get through it.
Creator Shindol brings us Whispers in the Darkness, a horror adventure game fashioned after the point & click adventure games of old. A creepy, dark mystery unravels as you try to solve the many brain twisting puzzles along the way. This level might not be for everyone though, some will go mad after 15 minutes but those that keep at it will discover a gratifying expierence rarely seen in the world of LBP. A personal favourite of mine.

A dark and different kind of experience awaits you in this ghostly tale of mystery and death. This story driven level will have you collecting stickers that you must figure out where to use in order to unravel the story and progress through the level. Players who like a little mental stretch with their gameplay will appreciate what this level will demand of them. Non HD TV users should crank up the gamma on this one or turn off the lights..…ohhhh spooky!

This must be the first point and click adventure on LBP, and what a way to kick start things. Harking back to the time when this genre was extremely popular, Shindol has created a level that can match the very best of those days. Dripping in atmosphere, with a great story, make sure you spend a lot of time enjoying the fantastic tale and taking in the sights. And play with the lights off for extra effect!!!

Whispers in the Darkness is exactly how it sounds…no it's not a few magic mouths with the lights off you idiot! It's spooky, mysterious and genius. Point and click brought to LBP and in such great style. It works, and extra things are added. Tonnes of secrets to be found and lots of story to be told – you'll need time but it is very much worth the effort.

Project GENESIS: Requiem
by

MrsSpookyBuz/MrsSpookyBuz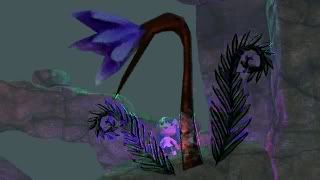 Trapped. Alone. Isolated. The Dark Androids have captured you, but you don't know why. What do they want? An experiment? A test? Or death? To find out, you're going to have to escape from your prison, journey through the mysterious organic caves, and infiltrate their secret base. Your fate is in your own hands. Comply. Or die.
Surrounded, imprisoned and minus one space ship…. not the way to start off a good day but the opening to the Project Genesis sequel from MrsSpookyBuz. Cinematic at times and with great cut out work and winding corridors full of secrets and danger it's a fun level that ends in an unexpected surprise. Fans will love the sense of humor MrsSpookyBuz has brought to this one.

Imprisoned, free and then put in a very tight situation, this new level from MrsSpookyBuz has some great sections inter woven with some fantasic cut scenes that draw you further into the world she has created. Crashing spaceships, the destruction of worlds and a race of robots out for humanity's destruction are just some of the things you'll come across. Plus, its MrsSpookyBuz, and not many can do visuals as beautiful, and platfoming as great as this.

MrsSpookyBuz takes a break from her new role as a roaving reporter and gives us the long awaited seond part of this series. It does not disappoint. Great action, wonderful set design amazing cutscenes and perfect pacing the whole way through ensure that this level is worthy of its spot on MrsSpookyBuz's page.

MrsSpookyBuz[z]'s long await sequel has arrived. And how long we had to wait – come on, I know it takes you ten days to walk from the computer to the PS3 but still! All jokes aside, this is a level you must check out, and chances are you already have. Go play it again, rate it 5 stars and bring a friend (but not an old one – their fingers are frail and they can't grip the pad correctly, right Spooky?)

Bubble Caves (MmSC Survival Challenge)
by

Treas/Treas
Somewhere in Africa, deep down under the surface, you'll find... the Bubble Caves! No one knows why or when, but apparently, some weird guy has built a very unique machine down here in those creepy caves. 8 Pillars for you to jump on. Miss a jump and you'll find yourself down in the deadly gas!
Competitive, addicting and loads of fun all at the same time. What is a basic concept in platforming - the jump - is pushed to the edge in this level. Ramps up beautifully and when played with 2 players has a great rhythm and can feel like a co-op one minute and a competition the next. Really fun to play.

I'm always a sucker for a good survival challenge, and Treas has created a little gem. Its extremely well designed and implemented, you'll have to make a lot of split second decisions that can change the playing field drastically later on when the difficulty ramps up. It requires a keen eye, and excellent timing, but its not something you'll tire of quickly trust me.

I've made 3 survival challenges myself so I do have a softspot for them. This is brilliantly designed and what a concept! While at first the rules seem a little complicated, you'll get it by the time the first bubble appears and be hooked by the 3rd. Up there with the very best.