The newest episode of our Community Spotlight has arrived! For those of you who are out of the loop, our Community Spotlight is a bimonthly collection of our favorite levels posted by our members. All of these levels have been posted on our site within the last 2 weeks, so you're getting a taste of some of the latest and greatest we have to offer. Click through for the full list.
Also, real life still has GrantosUK occupied but we anxiously await his triumphant return in the near future.
Enjoy!
Legend of a Hero ch.3
by

Miglioshin/Miglioshin
After being summoned not only to rescue a princess (and possibly... "marry" her ... *cough ... cough*), but to save an entire realm; after have flown to the heaven shrine and overcoming the legendary trials; after have destroyed the lost souls exorcizing the filty catacombs with the sacred holy sword; after have helped the wolf guardian to take back all his magic; the adventure continues...
Pay attention! Seriously, this is not a level that you can merrily bound along from start to finish. Anything you see and pass can and will be used in a puzzle against you. Great look and sticker work will impress, even if you get hopelessly stuck on the puzzles.

This level has moments that take me back to old school RPGs both in terms of look and puzzles. Very interesting use of stickers on glass give it a strange otherworldly appearance and even the smallest details can help you solve some pretty devious puzzles. The concept of collecting items to progress through the level is really cool too. A unique experience you won't soon forget for sure.

Another Miglioshin level hits LBP by storm and rightly so with the amazing graphical style and wonderful gameplay included. The premise of the level may seem simple, but the gameplay is challenging and there is often more than a single route. However the standout point from this level has to be the visuals. The darkness against colour works brilliantly in this level and won't leave you wanting anything more.

Miglioshin released his long awaited 3rd entry in the Legend of a Hero saga and it does not disappoint. His brilliant world of high contrast, brilliant sticker use & silhouettes is still alive and kicking featuring some devilish puzzles and some challenging gameplay. Can't wait to see what comes next.

Escape from the Blue Lab!
by

sny83/sny83
Help Sackboy find his way out of the laboratory in which he's held captive!
Clean, streamlined and very blue design are the words of the day when you step into sny83's newest level. Make your escape, unlocking doors, defeating roving enemies and facing off against a pretty ticked off boss. Designed primarily as a classic LBP platformer in most areas it's not the most challenging level ever but the camera and design in some areas of this level make jumps look like there's no way to pull them off but somehow you do. It's a neat visual trick that I haven't completely figured out yet but the effect is a real feeling of accomplishment once your free and standing pretty on the scoreboard.

What struck me the most while playing through this level was how flawlessly designed it was. Sackboy dances from layer to layer with precision that would make Mm jealous. When you add in the fun and challenging platforming as well as the clean visuals, you have a fantastic addition to the Spotlight.

Jurassic Park
by

DRLONG/DRLONG
A long time ago in my early days of LBP I made a Jurassic Park level which was good for a first level kind of scenario but by my standards today, it is completely inadequate. So today I am inviting you to the Grand Re-Opening of Jurassic Park. The new park features more technology, a brand new electric perimeter fence, a new power grid, new visitor center renovations, and of course new specimens. So I ask you to come and visit my new park. I have spared no expense (except for all of the score bubbles.)
We've spotlighted Drlong's Jurassic Park levels in the past so when I saw he'd revamped one I had to see what he'd changed. Now if since he's made the spotlight again you must be thinking, "That had better be an incredible level with outstanding visuals and gameplay in order for a remake to get into spotlight again." It is and it is! Playing it against it's older counterpart is night and day and shows you how far LBP level creation has come in the many months since it's predecessor was published. Don't take my word for it - go play it and be amazed for yourself. Psst - overshoot the scoreboard if you can manage it - nice surprise for fans of easter eggs in levels.

The vast majority of levels based on films in LBP, like the majority of games based on movies, are pretty poor. Thankfully DrLong takes an approach similar to that of Juleselyjules in that he stays faithful to both his subject matter, and Sackboy's world of wonder. This level is at times cute, funny scary and always fun. Just like the movie.

Welcome to Jurassic Park!!….again. Drlong decided to take an old level of his and completely revamp it in terms of visuals and most importantly gameplay. It feels brand new so we decided to handle it as brand new, a gorgeous looking level filled with great gameplay, neat puzzles and a lot of in-jokes for fans of the franchise and moviewatchers alike. Go check it out.

Wild Adventure in the Woods
by

Foofles/Foofles
Venture through a forest while avoiding local critters and tribal bunnies - but beware! Odd surprises await deep in these woods!
Epic bunny adventures continue in the newest level from Foofles. Seriously cute bunnies, even though they are trying to kill you at points are a staple of Foofles style and he doesn't disappoint here. Hilarious tribal bunnies and jungle swinging mayhem lead into a spookier setting as the plot thickens. The kinds of levels Foofles makes always have this charming quality to them that I never grow tired of. Lighthearted and always amusing this one is a worthy successor in the illustrious list of levels from this solid and fun creator.

Foofles makes a return with some manic bunny action and stunning visuals. It's not as easy as it sounds to fight bunnies and even harder saving them – but ultimately very rewarding as the gameplay is satisfying and fun.

Has everything a great level should have. Brilliantly designed characters, fun and challenging platforming, nice visuals and above all else; humour. An absolute stormer of a level.

Foofles and bunnies, it has been proven countless times before that this is a match made in heaven and that eternal bond is still as strong as ever. These levels are just so much fun to play, I challenge you not to smile before you reach the scoreboard…I think you will find that it is quite impossible!! Humour, good visuals and fantastic platforming make this a worthy addition to the epic bunny saga.

The Frog Chorus : A Musical Delight
by

IceMaiden/IceMaiden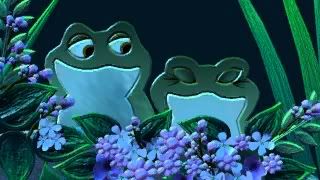 A musical level that features Sir Paul McCartney's "We All Stand Together", better known as "The Frog Song" from the Rupert Bear story. Travel through an enchanted lagoon where the two hundred year wait is over and the frog chorus is about to begin.
It's IceMaiden's newest level… do I really need to say more? The queen of the screen is back in another mind blowing visually amazing level. Accompanied by very well done music the combination is a treat for the eyes and ears. You have to see the details, characters and atmosphere to believe it. Truly an artistic level if ever there was one - do not miss this experience!

IceMaiden takes on the music level - and the outcome is only possible from such an amazing creator. The visuals are jaw dropping and as if that wasn't enough Icey has squeezed in a perfect rendition of The Frog Chorus. Somehow frogs look beautiful in this level, and the scenery will have you doubting it was created with only 3 layers. Perhaps Icey has had a little word with the Gods of LBP because otherwise I don't see how creating a level like this is possible.

The story goes that Verrocchio took one look at Leonardo Da Vinci's 'Baptism Of Christ' and put his paint brush down, never to pick it up again as he felt he could never create anything as beautiful as what he saw before him. Well I imagine a few people will be putting away the poppit after seeing this level drift by from their pond lilly. Genuinely amazing visuals that had me shacking my head in disbelief from the moment I appeared in the level to the moment I stepped onto the scoreboard.

From the comments above me, I think you already figured out what makes this level tick.
This is something else, music levels are rarely accompanied by such visual splendor, it honestly does take your breath away and almost makes you forget you are playing Little Big Planet in the first place.
Call this the perfect antidote after a few nailbiting action platformers. Simply jump in the lilly pad, close your eyes (on second thought, keep them open) and drift away in a beautiful relaxing world filled with music.


Silver Knight Gothic
by

SHENOA77/SHENOA77
This is a level I've been working on sporadically for a long time and just now completed it. I tried to incorporate as many different obstacles as possible but my lights/decorations/stickers, and complex shapes maxed out the thermo. In fact, it's my first attempt at creating a proper "story" level and I learned a lot throughout its evolution. Anyway, I hope some of you will find time to go play it.
Beauty and challenge meet in this wonderfully stylized level from Shenoa77. Stunning metallic silver platforms paired with darker hematite colored details all spiked with beautiful purple accents make it a visual stunner. The cathedral clock tower area is particularly beautiful. Now you might think a level that looks this good would be a walkthrough but Shenoa77's gameplay style is well known to LBPC members and we know better. Moderate to hard difficulty in a lot of areas will have you determined to get that last point bubble or just make it across a sliding electric death gauntlet. If you manage to finish it's a great sense of accomplishment and a great memory of a beautiful level.

Just a warning – this level will not let you quit. Its difficulty is hard, but the visuals are stunning and will keep you coming back for more punishment. Not to say this level isn't fun, because the gameplay is frantic and fun. Just make sure you've got plenty of time to spare, because this level isn't a pushover.

The title truly says it all with this level, SHENOA77 did however forgot to mention that we might meet sudden death in it on many occasion. Danger is lurking behind every corner and even the most expierenced LBP player will find some challenge here. Deadly yet beautiful, just the way I like them….levels that is.

The Convoluterator
by

SLS10/SLS10
This level is all wrapped up in itself! Travel through a winding temple-style level chock full of sticker switches, platforming madness, and spinning things. Race against a rather generous clock and score some mad points!
Sticker mayhem at a breakneck pace is what SLS10's latest creation brings to the table. Great combinations of platforming, sticking, backtracking, and lever and button action will keep you busy in between sticker switches using everything from humble trees to fish and a playing card. Original platform combinations and clever layout will have you all over this level and back again. It's an eclectic styled racing level that's both entertaining and as the name suggests very convoluted.

This level is fantastic. The platforming is fast, innovative and fun, the pacing is perfect and you can race against the clock for extra points. But what I really love about this level is the way you wind round through the level in different ways – you can go through a single section a few times before the end. Its' genius to look at and shows great planning from an excellent creator. Make sure you don't miss this one.

The feeling of déjà-vu isn't always a bad thing, proven by SLS10 in his latest level as you will spend a lot of time going through the same areas in slightly different ways. Great zany platforming, a whole load of stickerswitches and some great switch & run gameplay make this a higly enjoyable race through what is probably the craziest temple I have ever seen.

Hearts for Heroes 2 - Swampa
by

TOBSn08/TOBSn08
Hearts 4 Heroes is a new Level-Series by TOBSn08. Help the Queen getting more Heats for an unknown Reason. The First Chapter starts in heaven where you are going to meet the Queen and she will send you to an amazing Tree.
Seriously, stop whatever your doing and go play this one. The movement of the design alone is worth checking out and then to attempt to make your way through this roiling, swinging, and jumping juggernaut is pure joy. The physics of LBP have never played such a big part of gameplay in a level as much as I've seen in this one as you have to factor in where each piece to jump or grab onto is in relation to the rest of the moving structure. It's great fun to just stop and watch it do it's thing for a while too, just keep in mind where the spikes are while your sight seeing. Great atmosphere and lighting in this one too - a real gem that I'm so glad I got tipped off to.

This is one of those levels that reminds you why you love LBP. This level is absolutely stunning in its execution and is a real contender for one of the best levels ever created, by the community or by Mm. A masterpiece.

Some levels just put a smile on your face. Maybe it's the mechanics, maybe it's the platforming or maybe it's just got the best visuals you've seen for a long time. Either way, this level has it all and is the reason you bought LBP in the first place - to play great levels. So make sure you don't miss this epic adventure!

LittleBigFantasy Part 1
by

TheSeraphor/TheSeraphor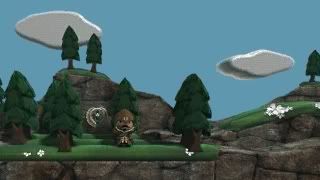 Part 1 of a story series I'm working on as an emulation/homage of Final Fantasy. It's not meant to imitate any specific Final Fantasy game, but rather embody elements of all the classic titles in an original story.
Final Fanasy fans this is a must check out level. It's not a rehash of the game but it's so got the same kind of feeling and even a bit of the music we love so much. Great cinematic story section and a boss battle that requires elemental based strategy really brings the Final Fantasy feelings back. Best played single player for the best experience.

I have a profound love for Final Fantasy and yes, I love this homage to the series. Taking a "inspired by" route, TheSeraphor decided to use some of the best elements from previous titles in the franchise and combine them together to create a fun, engrossing adventure that makes anyone with some knowledge of the game series feel right at home. Very enjoyable.

GreatMayaTemple
by

MightyMoeJoe/MightyMoeJoe
Explore an old & mysterious Aztec temple with many mean & dangerous traps, but there are also many treasures to find...
Great details and material usage make this temple level a sight to behold. Solid platforming, tons of firey and spiky ways to die and great pacing of obstacles make it really fun too. I especially liked his spinning sponge section. It has just the right amount of challenge and acrobatic fun built into it. The ending vehicle made me laugh out loud as well. As first levels go this one is really a home run and I'm so looking forward to more from MightyMoeJoe.

.:.An Overcast Evening.:.
by

KoRnDawwg/KoRnDawwg
A short entry for the LBPC Winter Contest. Journey through the night with only minutes left until Christmas Day, visiting the old abandoned mines and venturing through a beautiful and enchanted town. The font for the logo was created by Takelow, so lots of credit to him! I hope you enjoy.(
watch video
)
Korndawwg's style is as unmistakeable as it is beautiful. His architectural designs full of small details are always interesting and this level has some very interesting details. It's dark and moody and hints at a dark wintery storm approaching. Another solid offering from the architectural specialist Korndawwg.

Korndawwg brings his A game to LBP once again with this beautiful outing. With all the happy christmas levels out there, it was only a matter of time before the stom came - and Korndawwg has created a visual masterpeice to accompany it. One of the best looking levels you'll play this holiday season.

After the first few steps there is no doubt, you're playing a Korndawwg level. All his trademark bits are present, from the ancient and gorgeous architecture to the little touches and details that accompany such a simple thing as a door opening, it's all there…only this time it is sprinkled with a little bit of "holiday magic". Higly recommended and a welcome alternative to all the Santa levels you are bound to play this season.

A Bark In The Dark
by

RangerZero/RangerZero
Sackboy was taking his dog for a walk but looks like he should have a bought a dog chain because all of a sudden the dog ran away. This is how his new adventure started. Sackboy followed the dog's tracks and ended up in a cave... A very special cave.
Hot off his moon to your screen RangerZero's latest level will give players of any skill level a run for their money and time. Multipath possibilities abound here and since your light is minimal finding your way through is a challenge in and of itself. Excellent technical skills are on display in the tracking bat, who's hilarious by the way, and masterful construction of obstacles with very innovative combinations of styles and techniques confront you at ever turn. Excellent replay value if your up for the challenge as your never quite sure you've seen it all. A great experience!