Welcome one and all, to another instalment of our beloved Spotlight! It's that time of year when the ghouls and beasties come out to play, and we have a fair selection of fantastic Halloween-themed levels within this episode to keep you entertained long into the bewitching hour.
We're sure you'll all be just as thrilled as we are about the return of LBP's scoreboards, and we highly recommend that if you're looking for a few good levels to stamp your own name on, you take a look at the spotlight search engine, and go over some of the last few month's picks, who are possibly sorely missing a few high scores right about now!
That about wraps it up, on with the spotlight!
Death of a Clown (x2co-op)
by
Just_Tom__
Grab a friend and a Move Control and work together to get through this Gardens themed level. Oh, and try not to kill the sad clown :(. big thanks to ShaynaMac, se-mi92 and all my other friends who helped :D. ( Hold Square to pop )
Just_Tom obviously has a great love of cooperative levels, and his latest creation is no exception to the rule. Grab a friend with a move controller (only one of you needs move!) and race your way through this stunningly themed level, one of you (using sixaxis) controls a tragic clown, and a buddy (using move) controls the environment around them. Everything here is flawless – each single gameplay mechanic feels smooth and intuitive, and has a wonderful LBP1 vibe to it (only added to by the nostalgic 'Gardens' music) which made me grin every time I turned a corner.Fantastic work!

Take an endearingly sad clown, add some beautifully thought out Move gameplay and a dash of Gardens nostalgia and you have the perfect recipe for a must play level. Just_Tom__ clearly has a knack for producing well designed and fun co-op gameplay. The different puzzles and contraptions all worked beautifully and had the pair of us working together as a team to get the little clown through unscathed. Fortunately, he seemed resigned to dying once or twice...or, at least, he didn't look any sadder! I guess he could sense what was coming! Anyway, he and the Gardens style visuals added a whole heap of extra charm and character to the experience. A thoroughly appealing and fun co-op level which will certainly put a smile on your face!

[MMS] Move Marina
by
c_mckamey
Use your Move controller to dock and undock boats that unload cargo. Keep the marina traffic flowing and the cargo coming, all while avoiding a collison. 1-4 players and Move Required.
I have learned a valuable lesson whilst playing this level. I should never, ever take a job that entails controlling a harbour. A harbour-master, if you will. c_mckamey brings us a level packed with charm, flair and totally addictive gameplay. This level will see you grasping your Move controller, and guiding cargo ships into their respective docks, not to mention screaming at them to slow down and listen to you, as you are the boss after all! The difficulty ramps up the further along you progress, ending up in a frantic attempt to keep everyone safe as you try to stop yourself from having a panic attack! Awesome fun!

This fun and frantic minigame from c_mckamey will have you hopping up and down in your seat and yelling at the screen as the number of near misses and potential collisions begins to grow. It all starts serenely enough as you guide the colour-coded ships into the right dock and then steer them on a safe course away. But the pressure soon intensifies as more and more ships arrive. The routes you plot on the screen with your Move start to look like tangled knitting and maritime disasters loom on every front! The simple but charming visuals make the perfect foil for the clever and super-addictive gameplay. Above all, though, it's just great fun to play!

Sewer-Cider 1P Recommended
by
Rainbowtips
Enter the heinous sewers to get to the Mysterious Facility Inc. and find out why the neighbourhoods' water system has been polluted...
Hold your nose and dive right in, and whatever you do, don't drink the water! Rainbowtips smashes into Central with a great mini-series, and this level in particular took my fancy. Making great use of the merge tool for some really stunning obstacles and contraptions, and combining a host of different gameplay elements together to form one glorious race through an electrifying, fast-paced level. A really great hidden gem, worthy of more attention!

I'll be honest here and say with a title that includes the word "sewer," I had my doubts. Before the level loaded I was like, "yay. another sewer level." Ten seconds into it I was on the edge of my seat going "YAY! Another sewer level!" I wish I could put into words the excitement I felt for this piece of work. I was floored with the intricate details on display here. Rainbowtips does an outstanding job setting the mood in this environment and it felt like I was actually in a dang sewer! Without the smell of course. I was oohing and ahhing when that first door opened and was hooked when I came upon the first platforming section. Wow! You play as a detective tracking down one Larry Slime who has a nefarious scheme up his sleeve. En route to finding Larry, you will encounter unique and challenging obstacles as well as cleverly designed puzzles. Suffice it to say, I loved this level and I think you will too.

There's a freshness and enthusiasm about this level which make it a joy to play. In fact, you'll have a blast playing the whole mini-series, from the intro, all the way through the main feature level to the final train chase sequence. I can't quite put my finger on it, but there is something here which goes to the heart of what makes LBP such a great game. What absolutely shines through is the gusto and humour with which Rainbowtips set to work. He obviously had a lot of fun making these levels and it certainly shows in the end results. You'll find some cool platforming action, lots of variety, a fun story and an engaging boss (poor old Larry!). So, for an infectiously fun level which captures the spirit of LBP, look no further than Sewer-Cider!

[MMS] Castle of Infinite Sunset [MOVE REQUIRED, 1P ONLY]
by
DiOxi
Seems like that your sackboy has fallen to the hidden Castle of Infinite Sunset! Explore the castle with your MOVE- Controller and try to find 2 hidden secrets from the level. NOTE: Requires Move- Controller and 1 player ONLY. When you Move objects, don't use too much power, because objects may break.
The Move levels are really starting to come into force now, and Dioxi's latest quirky platformer is only helping to raise the bar! Packed with every different control mechanism you can think of for a move controller, this level combines a colourful, vibrant environment with really challenging gameplay! The challenge lies in finding the co-ordination to control a cursor, move your sackboy, jump, grab, and use every other 'usual' platforming mechanic you can think of – often in quick succession. This level had me hopping up and down in excitement when I managed to complete each section. A great offering, in dire need of more attention.

Dioxi's latest level is a complete tour de force but it will test your Move abilities almost to breaking point. If you're one of those wonderfully co-ordinated people that can tickle their left ear, whilst simultaneously wiggling the toes on their right foot and patting themselves on the head, then you'll breeze through. If not, then there are points where this level gets a little tricky and I heard rumours that some people may even have resorted to getting a second person to work one of the controllers for them *cough* It's is all in a good cause, though, as this is a level which genuinely repays all the effort you put in. The visuals are striking, the lighting is gorgeous but the star of this level is the truly innovative use of the Move controller. Dioxi has come up with some really creative twists on the usual in/out or up/down movement and it's this which puts the level in a class of its own. Another very worthy contender for the MMS competition.

Jack O' Lantern Junction
by
SX_Shookie99
Deep in the hollows of Jack O' Lantern Junction, an evil grows stronger. Embark on a journey to stop this evil force as you venture through this Halloween inspired world. [Entry for LBN's Platforming Perils contest]
I wish Shookie would open a Dojo so I could learn the ways of the platforming guru. He never ceases to amaze me with his well structured levels. In this Halloween themed level, Shookie delivers a strong one two punch with this contest entry. As the camera pulls back, we find that we are beginning our adventure within a giant Jack 'O Lantern. Say What!? This theme is maintained throughout the entire level with very fun gameplay elements that flows smoothly, like a mountain stream, and for you score hounds, Shookie mastered this so that you can pull off some wicked bubble combos. A top notch platformer that you will want to play again and again and again. Thank you Shookie, now about that Dojo.....

We're going Halloween crazy this week on the spotlight team, and SX_Shookie99 delivers a jam-packed level, filled with the perfect All Hallow's Eve vibe. Flaming pumpkins, skulls, gravestones. It's a recipe for a spooktacular platformer! As ever, SX_Shookie99 makes great use of powerups to add variety to their gameplay. You'll be grinning from... oh wait, sorry, shrieking all the way throughout!

LBN Platforming Perils: Haunted Halloween
by
brucethejam
Make your way through this haunted land of zombies, ghouls and ghosts. Special thanks to Christiandadrum for his stunning music! Happy Halloween everyone! Best with 1 player. Entry for Littlebignetworks Platforming Perils Halloween Contest.
I am the Scrooge of Halloween. I detest the holiday actually, what with all the little beggars going door to door for candy and the creepy costumes and the...aah, Boo Humbug! Bruce may have brought some of that Halloween spirit back though, with this magnificent Halloween themed level. This entry kind of reminds me of a Scooby Doo cartoon, and that's a good thing, as I love me some Scooby Doo. Did you see that one episode where Scooby...ahem! Sorry. Brucethejam will make your jaw drop with his slick animations and colorful environment. Make your way through some cool spooky themed areas while probably the best Halloween song ever, is playing in the background. You'll be "thrilled" when playing this level.

brucethejam's Halloween offering has the wonderful nostalgic feel of a cartoon Halloween special! He combines ghoulish tunes like 'Thriller' and 'Ghostbusters' with equally appealing sticker-panel animations waiting around every corner. Dart through a spooky forest, followed by a perfectly creepy full moon (where are the werewolves, I wonder...) until you reach the haunted mansion! Keep an eye out for those pumpkins, mind you, I wouldn't want to put them in a pot of soup!

A NIGHTMARE ON HOG'S STREET
by
The_Hog_Flu
Caught in a web of nightmares, you must find a way to survive. Your only hope is to find a way to awaken from this horror. LBN PLATFORMING PERILS. Thanks to cortez72 for the sick music!
I am not a fan of the horror genre in general. I don't like all the gratuitous blood, zombies, witches, demons and other grotesque aberrations. So when Jerry posted this level I was at an impasse. I knew it would be full of "frightful" images, but I also knew that it would contain skillfully crafted characters and gameplay. I dove in. "Wow, this is awesome. Why, this ain't ain't scary like I thought it...Ooooh my goodness! What the heck is that!?" That was me playing through each of the areas in this extraordinary level(s). I've never seen so many different environments bundled into one, well two, levels before. It's like playing six levels in one and Jerry has done a remarkable job seamlessly tying everything together. The variety in gameplay elements from area to area is outstanding and I don't want to give to much away, except to say that there are a few characters you may recognize. So, for a pulse pounding good time, why not try trick or treating down on Hog Street this year.

The_Hog_Flu's levels are always guaranteed to thrill and amaze you, and this epic creation is no different! The sheer visual flair in this level is breathtaking – every character, every environment is perfectly crafted and beautifully themed! I'll agree with Bio here and say that I just really don't want to spoil anything for you guys, so I won't tell you what's in this level. Yup, that's right, a spotlight comment with no comment. No! My good sackthing! I refuse! Just take our advice, and give it a play. Preferably with the lights down low.

[MMS] The Curse of the Shadow
by
Haexser
A PS Move level for the MMS competion. This is a short Story about a little native village. Help them and enjoy the level. Narrator: SleepingVeins Twitter: follow @PSNdeadmn
This jaw-droppingly gorgeous level sees you running through a stunning, spooky tribal village, in a quest to save the tribal people (but of course!). Using the brain crane, you must make use of the holy stones dotted around to guide your path. And let me tell you, when these tribesman paint their holy stones, they don't half do it with flair! The gameplay here is a treat, but truly the thing I take away with me is the stunning high contrast visuals and amazing attention to detail. Haexser & co have done themselves proud – another great contender for the MMS competition!

It's rare that a level comes along that combines a good story, great scenery, and truly unique game play. The Curse of the Shadow achieves all of the above, and does it well. The clever use of layers has you zigzagging back and forth across the level encountering new puzzles at each turn, turning what could have been a very short level into a satisfyingly long one (two, in fact). I thoroughly enjoyed it from the gorgeously done storybook beginning all the way through to the very end.

A sinister shadow has fallen upon a native village and it's your task to try and lift the curse. You'll be hooked from the start by the engaging storybook style intro which tells of the peril threatening Sackshire. Then it's down to you. Explore the mysterious tribal village and savour the eerie atmosphere so beautifully created by Haexser and deadmn, with flickering torches and holy stones with strange hieroglyphs that glow vividly in the dark. The gameplay is just as polished and well crafted and makes some of the best use of the Move controller seen so far. The brain crane seems made for a level like this, where lifting firestones and manipulating the other curious contraptions in your path just seems part and parcel of the magical forces at play in the story. A truly inspiring combination of gorgeous visuals, an engaging story and great gameplay. The MMS competition is hotting up nicely!

The Gravitizer
by
Nuclearfish
The ultimate rotating maze survival challenge returns... in space! Featuring zero gravity and deadly lasers. 1 player recommended for the best experience.
Now we all know Nuclearfish has had a long affair with circular survival levels, and his latest couldn't be better timed for its release! Almost the second that the scoreboards were announced to be returning, up pops this little beauty! A great survival challenge, with simplistic mechanics – it can't get any better! Hover around this death defying circular maze and grab as many score bubbles as you can, all the while avoiding a moving laser which threatens your hopes of seeing Christmas! Another great challenge from Nuclearfish. Best moment - totally pwning Biorogue on my friends leaderboards. Oh scoreboards, how I've missed you!

You know, it's the little things that fill me with awe in a level. I'm like a kid in a candy store, jumping and kicking all around and squealing with delight. That's the effect this level had on me, and that was just the main menu! When I began the challenge in this circular maze, I was lulled into a false sense of security, thinking "hey this is easy, there's some bubbles over there, and there, ooh got to get those behind that wall." I was navigating the maze with ease until I heard that warning buzzer..and that's when the fun really began. Now you have to navigate this moving maze and avoid the laser beam, all while trying to collect as many bubbles as you can. I won't spoil the surprises that's in store for you, but the level does progressively get more challenging and you'll soon be frantically looking for an escape route as you try to avoid the laser beams. Oops! did I say beams? Go play it, you'll have fun.

The Great Tree
by
MattAtk
[1 Player Only] Sackboy embarks a journey to find The Great Tree. EDIT: Made some parts a bit easier for you sackboys out there. :)
MattAtk's level is one of those perfect examples of a compact platformer with plenty of backtracking and oodles of charm. There'll be no fancy schmanciness here, my friend. You need to get through this lethalized, challenging obstacle course (all neatly themed within one sprawling tree) and reach the end in one piece, a challenging feat! There are a host of mini puzzles spread throughout your journey, and each one is a delight to solve – a real treat from this weeks selection of the backlog!

I had completely forgotten about this charming little platformer and took great delight in playing it again. I loved how Mattatk incorporated technology into an environment that normally would not have hi-tech contraptions. You'll be grinning ear to ear as you are rerouted through already explored areas in order to solve the next puzzle. There are a couple of challenging places but mattatk is there to help. In one particular area, I "died" one too many times and he removed one of the obstacles for me. Thanks Matt! Look, the bottom line is, go play this level. Even if you've already played, play it again.

ICARUS TYPE ALPHA (The Real Side Shooter) Single Player
by
Pirmaut
ENTERS THE PARALLAX ZONE.Defeat all the virus and the alien creatures with this frantic and original Side Shooter.Charge Plasma,Smart bombs,Extra energy,and special bonus.Original creatures and big Boss.Parallax and normal zone mode.Ready to Fight? "CUSTOM MUSICS BY THE ~DEJ@@Y" (SINGLE PLAYER ONLY)
Pirmaut's sidescrolling extravaganza is absolutely teaming with enemies! Surrounded by a striking alien landscape, you progress through this level, mashing the x button all the while, dartig around viruses and aliens in a bid to escape with your life. Using a handful of special boosts and attacks, you need to figure out the real weakness of a creature in order to deal the most damage. At least, that's what it felt like to me as I faced off against the first boss. The pace is constantly changing and moving along, and you may find yourself getting carried away with it all. Best of all – now the scoreboards are back, this is an ideal opportunity to get your name in the top ranks!


Wait! What just happened? I though I was playing LBP. Are..you..flippin'..kidding me!? This level/game will knock your socks off. I was drooling all over the place while playing this one. Seriously, my wife wanted to take me to the hospital. This side-scrolling shooter has it all: Epic visuals, amazing computer voice, advanced enemies, power-ups, you name it. There are several stages to go through and each is different with epic boss battles and loads of enemies. The level has a classic arcade feel to it and is one not to be missed. Go play it now!

The Mind Factory [1 Player Only]
by
jackofcourse
Puzzler/platformer where you and your freaky Sackboy must use his newly found Right Stick powers to move plaforms and progress your way through the obstacles for no reason whatsoever. Have fun!
In Jack's own words, your Sackboy has discovered secret special powers for... some reason. From the charmingly funny introduction to the stylishly revealed scoreboard, you're bound to have a blast in this great platformer! Using the right stick to control the platforms around you is a really simplistic game mechanic, but the way that Jack has utilised it and incorporated it into such a wide variety of puzzles is what makes it special here. So queue it up!

I wish I had mind control powers, I'd rule the world! But since I don't, I'll have to live vicariously through my sackboy. In this seemingly simple platformer from Jackofcourse, you will use your mind and your thumbstick "powers" to maneuver platforms and avoid obstacles in order to reach your goal. I loved the clever ways Jack had us move these platforms so that we could progress through his level. With its clean lines and well executed gameplay mechanics, you're sure to enjoy your romp through the Mind Factory.

Alice in Wonderland (Level 2) - Down the Rabbit Hole
by
SasukeUchica
Alice really wants to eat that Rabbit, she took me to this strange place that doesn't seem at all a rabbit hole. I hope to leave this place soon because... Alice is very pretty, but she always complains! Continue in Level 3 Credits: Thanks to Carkki for Alice costume. JJ131319 for the beautiful voice of Alice, my friends and all people who played the Beta, Thank you!
SasukeUchica takes us down the rabbit hole as we go in search of that pesky rabbit. (No Elmur Fudd jokes here, cross my heart!) But things would be a lot easier if Alice wasn't in tow. We need to lead her through this skewed and charmingly realised level, opening paths for her and generally running round doing all the dirty work. Ah to be a pampered fool like her! I loved the feel of this level, the visuals lend themselves perfectly as a Lewis Carroll setting, and the gameplay was smooth and fun! A great adventure!

SasukeUchica has created a fantastic version of a classic story. The level is decorated to the nines with plenty of eye candy to feast on. The gameplay elements are superb and has a nice balance of running, swinging and bouncing as you lead Alice in her journey. You'll have to open paths and clear obstacles in order for Alice to progress through this level. Now don't get me wrong, she isn't a nuisance, she just waits patiently as you get the job done. If you want to find out whether or not she finally catches that rascally white rabbit, you'll have to go play this one for yourself. A must play in my opinion.

Also from the Showcase...
Played everything in the Spotlight and still looking for more?
These levels stand out from the crowd for a variety of reasons, so be sure to check them out!
And last but not least, levels of note from our ever-shrinking backlog!
[LBP2] Enjoy a relaxing journey through a level set high in the stratosphere, with restful music and simplistic but pretty visuals - Sky Road by JonnysToyRobot.
[LBP2] The gorgeous visuals and lighting in this steampunk silhouette level will take your breath away, as you swing and platform your way from one floating island to the next in the magical Steampunk: Sunset City by Calyst_Aayla.

PSP Spotlight
Beauty of Nature: Spring of Earth
by

doggy97/doggy97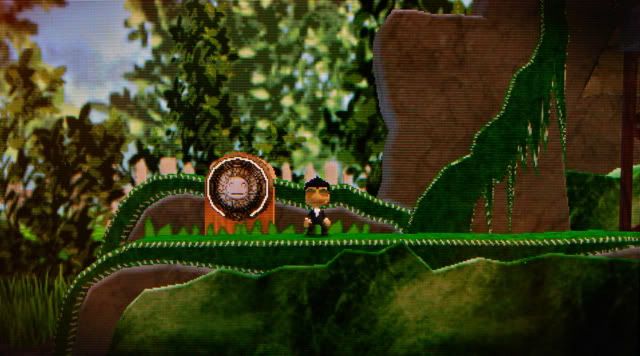 Beauty of Nature series is here! This part is Spring and Summer seasons level! Next part is Autumn and Winter season! Enjoy the Beauty of Nature!
doggy97 has become a master at creating pretty levels. Beauty of Nature: Spring of Earth is his best work yet! It's packed with great spring aspects and details, so you don't want to miss out on this luscious adventure.


I think this level may be more beautiful than nature itself as doggy brings his A-game with the visuals in this one! The gameplay compliments a lovely set of visuals that really do need to be seen in-game. If this is an indicator for the other seasons then roll on Autumn and Winter.

Also from the Showcase...
Played everything in the PSP Spotlight and still looking for more?
These levels stand out from the crowd for a variety of reasons, so be sure to check them out!
Try out a very cool, short but sweet, fast-paced platformer with hidden paths and great visuals: CSNC: Material : Commons! by doggy97