Welcome everyone to another bumper edition of your friendly Community Spotlight packed with goodies from the Level Showcase. This time we have to give a special shout-out to Woodbury Raider who has achieved the unprecedented feat of gaining 3 full spotlights in a single edition! Well done to him!

So switch off the Olympics for a moment and switch on your PS3s (and PSPs) and get playing!

PS3 Spotlight
Steampunk OWL's Lab
by
SnakeOwl
(IPLAYER ONLY)Something was developed in the facilities for research... スチームパンクなフクロウとある研究施設でなにかが開発されたようです。music by @Whoacoder , English correction by @Stellakris
A rather fun stage that reminds me of 16bit Sonic, funky music and art direction is colourful and vibrant with big chunky obstacles and retro style puzzles, but with a LBP twist, throw some attract-o-gel in there and a clever game mechanic of switching doors and you have yourself a fantastical stage of er.. fun?

Bee-boo-bee-dee is what you'll be humming along to the chiptunes track that whisks you throughout the level. I know many creators have trouble with designing gameplay elements and that may be their weak point, but SnakeOwl has no problem cramming in fun gameplay that would make any other sack in the creatosphere envious. From the get-go, you are greeted by an astounding animatronic owl that simply looks wonderful. Play continues on into eclectic surroundings that is not seen much. I just love this level overall, it is eccentric to me and I enjoy all of the gameplay elements. SnakeOwl leaves nothing left to be desired.

Snakeowl continues to entertain me with his delightful ways of including simple fun gameplay, and mixing them with new concepts to produce innovative, fun obstacles and puzzles. There's something for everyone here, especially if your a sucker for innovation like I am!

Ambrosial
by
Bmoney2310
Ambrosial is a SINGLE PLAYER weight oriented puzzler in a lush environment. There are nine secrets throughout the level. Good luck in finding them all. Thanks to L1ghtmare and Psyntens for the root/branches idea and thank you to all my testers.
Take some ancient ruins along with haunting music and you've got a level that just brims with atmosphere. With its simple premise, detailed environments and clever weight-based puzzles, this all adds up to a very enjoyable experience. Can you locate all of the secrets?

Enter the intricately designed, lush ruins of the ancients and embark on a journey like no other. You'll need to have a "balance" of puzzle solving skills and platforming know how if you are to successfully navigate this environment. The music really helps tie in the atmosphere and you'll constantly be eyeing your surroundings looking for nasties, but all you'll see is gorgeous scenery...and a secret or two. Load up the backpack and take a hike into Ambrosial.

It has been quite some time since I have seen a level that is as fun to look at as it is to play. The level really is as sweet as its name Ambrosia suggests, and shall have you fully engulfed in the beautiful scenery and environment as you discover secrets and solve weight puzzles throughout the level. However, Ambrosial would not be the same without one key component: the music. Right off the bat I noticed how the deep and mysterious music somehow transformed the level into something grander and awe-inspiring. Together with the original gameplay and breathtaking surroundings, the music of Ambrosial truly takes the level and turns it into an experience that is not to be missed.

PixeLateD (1-4 cs)
by
dancingbabystar
**To get the absolute most out of PixeLateD (Such as the Locator System), play with friends for an innovative multiplayer experience!** Dash, climb, navigate, and cling through what is THE ULTIMATE explosive survival. 125 create hours. Huge thanks to Natural-Design for visual concepts and Izjaad for testing+support. Incredible music by Velvet--Audio, Festerd_Jester, comishguy67, and Hug-Of-War. Enhanced Bot Kit given as a prize for playing, all levels of explosives are given for completing PixeLateD.
Let's get this out of the way right up front: this level is a bomb survival. Now that we have that out of the way, I'm amazed that among the hundreds (if not thousands) of bomb survival clones out there that no one thought to take the advanced logic of LBP2 and augment the controls - essentially creating a whole new experience. Play this one with some friends, it gets pretty hectic!

Welcome to the twenty first century! This ain't your Grandma's bomb survival level, this here is a souped up, over the top, top-fuel drag racing bomb survival! It's got more special features and effects than you can shake a stick at, and trust me, I can shake a stick at a lot of features. First thing you'll no doubt notice is the awesome title menu. Now just because you've played a few Bomb Survivals don't go thinking you're an expert. You best be checking out the "How to" and "controls" section before heading to your doom. I don't want to spoil it for you, just queue this level and go get PixeLateD!

In a world where poorly constructed bomb survivals haunt the community of LBP, PixeLateD emerges and gives a whole new meaning and outlook to the genre. this level takes the overused gameplay type, revamps it with impressive visuals and advanced logic, and transforms it into something completely spectacular. You'll find yourself scrambling all over the arena dodging the various types of advanced bombs as the floor slowly crumbles beneath you. Bring your friends and give PixeLateD a go!

Geometry Wars Galaxies [Supports Move AND Dualshock] [1 Player]
by
Turkeyntz
The sequel to Geometry Wars is here! Choose between 2 control types, 4 different Worlds and 5 different drones for a total of 40 combinations to play for the top score! Learn every enemies unique behavior to escape death every time! Every drone is very different, learn which suits you best for every level type. I cannot take any credit for the music, I recieved it all from the LBP Community.
You might wonder why we're featuring another Geometry Wars clone...well, mainly because it's a really good GW clone, possibly the best one out there. This version stands out from the rest by offering option Move controls and the ability for a second player to join in the fun assisting player one. It doesn't stop there, you have a varied arsenal of defense options available and no less than six different stages to choose from. If you're a fan of Geometry Wars, this will no doubt wind up at the top of your list.

Welcome to Geometry wars! Oh, you've already played some geometry wars levels have you? Trust me, you haven't seen anything like this. This clone/remake actually took me by surprise as I was fully expecting it to be like all the others. Boy was I wrong! There are just so many cool options to choose from right from the start. Choose between the Move or 6-axis, pick one of six different planets and let the carnage begin. The fast action shooter brings a fresh breath of air into this genre and you'll soon be addicted to it as I am.

ZoneRacer 2 (WipEout HD Zone Mode) [1P]
by
Matt_XIII_67
ZoneRacer 2 is a 1 player survival-racing game based on WipEout HD's Zone Mode. This menu level has links to the track levels and a game guide to learn how to play. The menu music and the racing musics are made by GAUFFREMAN. Merci beaucoup pour ton aide, tes musiques sont vraiment géniales !
This is probably the coolest Wipeout-esque games I've seen in Little Big Planet. I loaded in and was immediately blown away with the menu screen. It looks snazzy and has a load of options to choose from. There are six different tracks to race on and two options of normal mode and reverse, so it's really like having twelve tracks at your disposal. The premise is that the ship you're piloting is going faster and faster and you have to stay alive for as long as you can, all while listening to some cool beats. The tracks are magnificent and the ships are wonderfully detailed. Tighten those belts and enjoy your ride in ZoneRacer 2!

This is that rare survival level that truly shines in every aspect. Matt-XIII combines visually stunning race tracks, exciting and challenging gameplay, and catchy music into the masterpiece that is ZoneRacer 2. though not familiar with the Wipeout series, I have played quite a few survival challenges across both platforms of LittleBigPlanet, and I have to say that ZoneRacer 2 easily is one of my favorite. Be sure to give this well made hidden gem a good play through, as you soon may find it to be one of your favorites.

Cloud Rock Falls
by
LuciforX
1 Player Platformer!! Work your way through the trails of Cloud Rock Falls, but watch your step! Its a long way down! (CUSTOM MUSIC WANTED)
Step foot in this beautiful rich environment and gawk at all the little details this level has to offer. The scenery not withstanding, the platforming is great too! There are all sorts of contraptions to convey you throughout this lush terrain, and a good dose of score bubbles to collect as well. This is another one of those levels where I just had to stop and admire the scenery that was so carefully created. Superb level that is a must play. Queue it now.

A lush verdant forrest with some well placed hazards and a cleverly thought out platformer with some bounciness and quick reflex sections. A smooth and friendly romp but not without it's challenges, so jump on in and take a look at this hidden gem!

There's something about this level's Unique visual approach I can't quite put my finger on... Elegant yet flourishing with life. Having a massive soft spot for visuals myself, I was pulled towards the lush environment with a taste of drool in my mouth. This rose isn't without it's thorns, though! There are some greatly planned hazards and some fantastic fast paced action segments in this level that I didn't expect from the first impressions I had with the visual style. Over all a fantastic level with a complete package of unique visual style, and well paced gameplay. Check this one out!

[PLCC4] Drum Sticks Together
by
yoghurt2000
Visit Dana and Haggis clubhouse, when you've been chosen to find Haggis drumsticks. --- This level works best with 2 players, but you can play with 3-4 players also. You'll need good co-op skills by the way. Made by @yoghurt2000 & @grayspence. Music by @pellemannen. Enjoiii! ;)
Well, this entry into the Little Big Planetarium's contest is something special indeed. I loved the story here, which has you in search of poor ole Haggis' drumsticks. Can't very well play the drums without your trusty sticks can you? The characters are hilarious in their features and brought an immediate smile to my face when I saw them. The gameplay is what makes this level what it is though. This is a great co-op challenge and you and your partner will have to work very well together if you are going to be able to find those sticks! Excellent puzzle platforming that is sure to produce a grin or two...or three or four.

High production values abound in this Co-Op challenge stage, a fresh art style and funky music add to the the charm as you and a chum pull switches and swing in tandem toward your goal. Queue this up, grab a friend and be delighted!

Car Wash Conundrum (Survival Challenge)
by
jakeinator123
Level Congrats, Sackbro! You just got your very own job working at 7-12! The world's best inconvenience store.. In the World! Just stay out of that Car Wash next store, probably NOT the best place to play around, what with all the motorized vehicles, and high technology water dispensers... Thank the Maker for the musical stylings of @Breezy-The-Pro, otherwise this level would be all sad and silent. [Best with one player, more people will cause lag, and make you blame your horribly timed jumps on the game]
If you've ever had a secret desire to see what it would be like going through a car wash outside of your car, this survival challenge might be right up your alley. Stay off the floor unless you want a quick ticket back to your pod, and be ready for lots of soap and bubbles (well, score bubbles) coming at you fast and hard. Catchy music and great visuals round off the gameplay which is even more fun the more friends you bring, so be sure to give this one a whirl.

Whoa! (had to get one in) This is probably the most unique survival challenge I have ever come across. I believe Jakeinator has outdone himself with this little gem here. How do you even come up with the idea to try and survive a carwash? From beginning to end this level is a display of pure brilliance. Everything is meticulously detailed from the interior of the convenient store to the wide variety of vehicles coming through the carwash. Your goal is quite simply to stay alive and you'll do that by hopping cars as they come in for their wash. Watch out for those soap bubbles and collect as many points as you can, then rinse and repeat.

Miss 'n Colours (FAST PLATFORMER) (1 PLAYER)
by
SonofaSack96
(HARD DIFFICULTY).. You find yourself locked up in a facility, being forced to do labour by Miss. How do you escape? Make a mess of course! Are you ready to fly through the facility, spraying paint all around? Music made by Festerd_Jester. Special thanks to Fuzzbreeks, Hamzeh9969, Itoxzi, and bikerider12 for beta testing!
Oh, now this is right up my alley here! It would seem I'm yet another test subject in some evil guy's facility only this time I've got a little help. I start the testing quite easily enough in thus dull looking facility but then out of nowhere someone through a crack in the wall, offers to aide me in escaping this place. His plan? He gives me a device that adds a mess of color to the facility which in turn will mess with the facilitator of this cruel procedure thus allowing me to escape. Sounds easy enough. Race through this area throwing paint and color everywhere and get yourself free in Miss 'n Colours!

Trapped in a drab and soulless facility, Sackboy gets thrown an unexpected lifeline by a fellow prisoner (with somewhat shifty eyes, it has to be said). He offers you a cunning invention which will scatter colour everywhere and foil the plans of the cruel Miss who has you in her clutches. So it's your task to fly through the facility, hitting buttons and spreading splashes of colour and wonderful chaotic mess everywhere. All of this adds up to a great excuse for some fast-paced and exhilarating platforming, as you bounce and spin your way through the facility in an explosion of speed and colour. Cool gameplay ideas and great pacing make this level a pleasure to play and you'll have a blast turning a dull grey world all the colours of the rainbow.

BLACK44
by
TheNotorious-187
"long you live and high you fly, smiles you'll give and tears you cry, all you touch and all you see, is all your life will ever be" (Pink Floyd - Breathe) An Artwork Gallery, Dedicated To The Memory Of The Brave. (MUSIC BY CORTSTER12) (Special Thanks To The Ghost_Creators, RtooDee2, Pirmaut, MuddledMuppet and Sport_Dude for feedback and inspiration)
Wow! Thenotorious-187, otherwise known as Spacemonkey, just left my mouth agape with this one. I'm having a tough time finding the words to describe this. Notorious has created a remarkable gallery that pays tribute to the brave men and women who serve our countries. The gallery is done in a silhouette style and is filled with gorgeous details and imagery. I really respect the craftsmanship put into each scene and every time I watch this, it's like brand new as I notice something that I didn't before. Queue this up and admire the beauty that is Black44.

To echo Bio: Wow, just wow… well… that's all I could think for quite a long time, after viewing this. From the opening titles through out, amazing sill er… photography? um I think this genre needs a new title sackogrphy or something. This level really is like nothing else I have seen in LBP before it's a comic book slide show of sorts, with such a high level of art design I still am unsure of how to correctly describe it. It sure is an experience, and one that many are yet to enjoy.

My Goodness, this is one level that is WAY beyond the bounds of what we commonly call "Fantastic" or "Beautiful". Black 44 is a glorious work of art, handcrafted by Spacemonkey for your eyes to feast upon. The gallery pays respect and educates players (I should really say audiences) on the effects of war, and how truly heroic and brave the men and women who give their lives to fight for freedom are. This is such an amazing experience. Please don't pass this one up.

(PLCC4) I am Legion (2-4 players)
by
papanurgle123
Make your way through the dangerous caverns as you try and find the Emberwitch, the only person who can free you from the perilous Depths. (2-4 player) (Thanks to nk827 for the music, Donal222 for the Emberwitch design and to my testers Der_GamEr_1994, Nightmare5436 and Technomancer7)
Here's another entry into the Planetarium's Contest that will have you on the edge of your seat in concentration. Team up with a buddy or brave it solo such as I did, and embark on an amazing journey where you control character movement and your partner controls the jumping and grabbing. Sounds simple enough, except there's a catch. Dotted along your path are portals that will switch up the controls on you so you'll definitely have to have your wits about you. The design of the level is stunning and the gameplay is clever, challenging and doggone awesome! Play it, play it now.

In a very cool twist on the usual co-op experience, this level has you and your partner both controlling the same Sack. Communication and co-ordination are key as one of you moves the hero of this adventure from left to right and the other makes him jump and grab. Just when you think you've mastered the technique Papanurgle ramps up the difficulty by having the controls switch round every time the sack passes through a gate. Remembering who's doing what as your Sack passes through one gate after another at speed will keep you on your toes and with no time to admire the superb backdrop. It's original, clever and deeply satisfying to play as you team up to get the hero through all the perils standing between him and fulfilling his quest to find the Emberwitch and escape the fiery depths. Impressive in so many ways!

Space Police: Landfills of Mars [1P]
by
THe__EGG
Welcome to Mars! This a fun, funny and tricky 1 player platformer with outrageous visuals! The SPaCE PoLICE are accidentally in pursuit of a gang of intergalactic HoTDoG robbers. Use L1 to move platforms and avoid all kinds of peril including a MaSSiVE BoSS! Huge soundtrack by weirdybeardy, hug-o-war and festerd jester. Thanks for playing!
A very fun and vibrant space romp with a smattering of humour, your job is to traverse the cartoon like alien world picking up sausages and nabbing the thieves who stole them, some devious puzzles lie in your way, but there is some friendly tips and shortcuts there to tempt you. But don't be tempted you may miss out on snacking on some of those missing sausages!

Lively cartoon-style visuals and an even livelier sense of humour make this level a ton of fun to play...even if the gameplay does get pretty challenging at times. A member of the elite Space Police, you arrive on Mars just in the nick of time (...what do you mean accidentally?! *cough* ) to round up a bunch of notorious hotdog thieves and maybe snaffle a few of the hotdogs too. Your journey through the Martian landscape is not an easy one, though. You will need to hone those reflexes and perfect your timing to get through the moving platform gameplay and defeat the Martian boss. It's original, inventive and funny – this level is a real breath of fresh air – despite the unsavoury Martian landfills!

This was an absolute joy to play. Take on the role of Space Police send to clean up the universe in this challenging platformer. If the zany cartoon humor and gorgeous environments don't grab you, then the deviously tricky gameplay might. Some of the areas might be tough to get through, but it's worth it here to find and defeat the gigantic boss!


Big Planet Pinball (SINGLE PLAYER)
by
ThirdAxis01
Level Welcome to BIG PLANET PINBALL! Play through the story modes as you dodge, aim and shoot your way past different goals, big points and special events and finally defeat the NEGATIVATRON!!! Single player only. R1-L1-- Flippers, R2-L2--Nudge, X--Shoot ball. Real pinball simulator, Special thanks to--LINKS_R_US, and everyone else for the great idea's and help!
It's about time someone made a Little Big Planet 2 themed Pinball table! Sure I've played tons of LBP tables but usually they're centered around one theme such as Avalon or Davinci but this one showcases ALL of LBP2. He's got everyone in here in they're own special areas. You've got Davinci and Avalon and Victoria and even that old bad guy himself, The Negativatron! This table is pure brilliance and there is no way you'll see everything this table has to offer in one playthough. I fell in love with this table and I know you will too when you pull back that plunger in Big Planet Pinball!!

The sheen, glamour and pizzazz of this pinball table are something else – it genuinely feels like the real thing! The LBP2 theme is brilliantly done and you'll find yourself delightedly spotting all the great details ThirdAxis01 has managed to pack in. The gameplay doesn't disappoint either, the table plays beautifully and the controls are superbly responsive. I just wish I had the skills to do the table justice and experience all the jackpots and other special effects it has to offer. I know enough, though, to salute the sheer pinball wizardry on display in this level!

It always surprises me pinball tables in LBP, I mean, I remember when you'd play a table waiting for your turn on Super Street Fighter II in the arcade. It always fascinated me that those little bumper things could be that responsive… anyway, playing a quality table in LBP doe s the same thing, I end up getting distracted looking at all the bells and whistles and then I loose. This table is no different little pockets themed around the stages of LBP2 in such small little chunks but still so perfectly encapsulate the theme and vibe of the game. It's also a fun and fast table to play so quarter up and try for the top score.

Also from the Showcase...
Played everything in the Spotlight and still looking for more? These levels stand out from the crowd for a variety of reasons, so be sure to check them out!
PSP Spotlight
Collateral
by

WoodburyRaider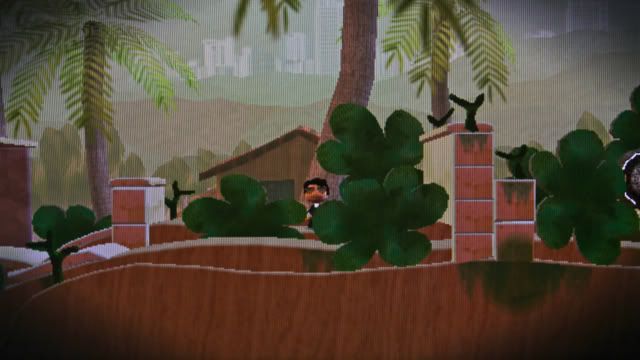 World War III: Part V 7/29/12 Sprint, leap, and wall run your way through the city of Tehran. Flee from the F35 jet leaving HD destruction in its wake.
First of all I want to congratulate WoodburyRaider. He scores a hat trick with three levels spotlighted this week. Collateral is another brilliant level in his WW III series. His trademarked visuals are in top form with an eye popping art design. Not to be outdone by a brilliant level design, and a helicopter chase across a city skyline that ends in one of the greatest scoreboard set pieces I have ever experienced.

WoodburyRaider has brought us an atomic plethora of spotlight-worthy goodness in his three newest installments of his WWIII Series. It is a first in LBPC Spotlight History to have three spotlights for one creator in the same episode, and we commend him for his devotion to the community! The first of the three, Collateral, is a perfect showcase of his dazzling and distinctive visuals, set-pieces, and special effects that are virtually unseen on PSP. At the saddening time the level ends, you will feel nothing but satisfaction and eagerness to see what happens next.

Castaway
by

WoodburyRaider
World War III: Part VI 7/29/12 After you fell off the skyscraper, you were knocked unconscious in the ocean. Now, you need to find your way off this island.
Picking up right where Collateral ends, you barely have time to pick Sackboy up and dust him off before you are right back in thick of it. Set on a tropical island in an almost open-world environment. This level crosses the line between a traditional action platformer and and RPG. With tons of secrets to uncover, NPC's to help, and bubbles to chain together, you will have a great time gadding through another WoodburyRaider classic.

Afterwards, we find Sackboy lost and puzzled in Castaway. This level offers what I consider as one of the most unique landscapes ever crafted on PSP. Woodbury seamlessly weaves four completely different biomes together, an accomplishment that clearly deserves acclaim. Scenery aside, the all-around design and gameplay of the level presents an astonishing amount of replay value. You can decide whether or not to help a lad out, you can race instead of explore, and/or you can search for the various secret areas that are hidden quite cleverly. I knew Woodbury was a great creator long ago, but this, this just is further proof.

Contagion
by

WoodburyRaider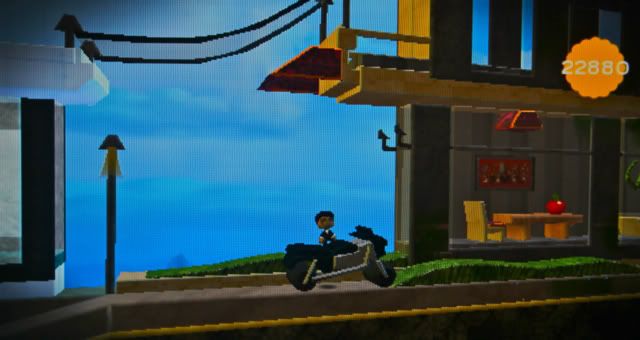 World War III: Part VII 7/29/12 Contaminated bubbles have been scattered around New York City. You can absorb them all to save the world, but at what cost?
And last but not least, we come to Contagion. Woodbury raps up an amazing psp spotlight with part seven of the WW III series, and he does it with style. Featuring a parkour style race across the roof tops, and then down below, in a blistering motorcycle romp through the streets of New York City. The art style on this level is so incredible, you have to see it to believe it. Three levels in one spotlight is an awesome feat, solidifying Woodbury as one of the greatest psp level creators of all time. And a huge amount of respect from the entire psp spotlight crew. Great job man!!

Finally, we find ourselves in Contagion. A metropolis is plagued with (beautifully-combo-ing) contaminated bubbles that determine the fate of the world. This is a very interesting take on combo levels that encourages the player to do all he or she can do to nab the highest score. I found myself anxiously trying to absorb as many bubbles as I could, after all, the world depended on me! When the scoreboard spewed confetti, I looked at my score and realized this level would remain in my downloads for quite some time. With the plethora of spotlight goodness coming to an end, I have to echo VelcroJonze's comment and say Woodbury has made himself known to be among the PSP elite. Collateral, Castaway, and Contagion are further evidence of Woodbury's talent, and to miss any of them would have disastrous consequences of World-War-III-potential in the PSP community.